Last Supper BBQ Smokers

"What I Love…God, Guns, and BBQ!"

History

Established in 2014.

Chris Salone, the Owner and Pit Master of Last Supper BBQ Smokers is a family owned business that was born from a hobby.  Chris began competing in BBQ Competitions about 7 years ago and cooking for his family and law enforcement buddies and from there it turned into catering. 

After being top ten in all categories during competition and much pleading with his wife she finally said "Ok" to the trailer about a year ago. 

Since then it has been a full on sprint with catering opportunities booked and selling Awesome BBQ on the weekends.   Licensed, Insured and Permitted to Sale we are bringing the much needed pleasure of Great BBQ to everyone in DFW.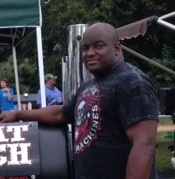 BBQ has never tasted so Good! 

Chris understands that reputations are built with every sale, which is why he guarantees the most delicious BBQ.

He puts careful thought into every cut of meat.  Into every spice rub he applies.  Into every type of wood he smokes with.  Every little detail.  There is a method to his madness.  We Think?!?

But you have to try it for yourself....Born and raised on the Southside of Fort Worth, TX he definitely has some interesting stories about what it was like when he was growing up and where you could find the best BBQ.  He wants Last Supper BBQ Smokers to be one of those stories you tell to your children.

Pit Master - Chris Salone

Last Supper BBQ Smokers

Chris Salone, Owner-Pit Master

PO Box 15455

Fort Worth, TX  76119

(817) 946-3278 call/text

Last Supper BBQ Photo Gallery